---
Feds Release 7,173 More Illegals in Three Weeks
*************************************
As of July 31st, 405 illegal aliens were  released in Ohio
*************************************by Tony Lee 15 Aug 2014

The federal government released 7,173 more illegal immigrant juveniles into the United States from July 7 to July 31st, according to updated data from the Office of Refugee Resettlement. 
During those three weeks, Alabama received 108 more illegal immigrants; California,, 759; Florida 628; Georgia, 258; Louisiana, 204; North Carolina, 373; New Jersey, 237; New York, 897; Texas, 1,000.
The federal government has now released 37,477 illegal immigrant juveniles detained at the U.S.-Mexico border this year. They had released 30,304 as of July 7.
Since October of last year, there have been at least 60,000 illegal immigrant juveniles who have been apprehended at the border, and federal officials expect nearly 150,000 more will be detained in the next fiscal year. According to Pew Research, nearly 90% of the illegal immigrant juveniles who have been detained in the last two years have been teenagers. The number of illegal immigrants who have been detained drastically spiked after President Barack Obama enacted his temporary amnesty program for illegal immigrants two years ago.
Here are the updated numbers, according to the Office of Refugee Resettlement.
Read more:  breitbart
---
Feds: About 6,000 Ohioans must resolve immigration issues to avoid losing health law coverage
THE ASSOCIATED PRESS  August 16, 2014 - 12:35 pm EDT
COLUMBUS, Ohio — Some 6,000 Ohioans who signed up for the new health care law risk losing their taxpayer-subsidized insurance unless they act soon to resolve questions about their citizenship or immigration status, according to the federal government.
The U.S. Health and Human Services Department said recently that those with outstanding documents are being warned that they have until Sept. 5 to show that they're eligible. Otherwise, their coverage will end Sept. 30.
People living in the country illegally are not allowed to get coverage.
Nationwide, more than 310,000 people whose citizenship or immigration details don't match what the government has on file have been notified that they must submit their information.
The health agency said many haven't responded to repeated outreach efforts by mail, email and phone.
The letters, which are being sent in English and Spanish, notify enrollees with unresolved issues that they still need to upload their documents to the HealthCare.gov website, or mail them.
"A data inconsistency does not necessarily mean there is a problem with an individual's eligibility for enrollment; it means that additional information is needed to verify the information provided in an application," federal officials said in a news release.
Florida and Texas topped the list of states with unresolved cases, with 93,800 and 52,700 respectively.
Pennsylvania has 12,600 cases, while West Virginia has 400.

Read more:  therepublic

IO opinion:  6,000 Ohioans?  Perhaps some Ohioans and perhaps some illegal aliens and perhaps 6,000 illegal aliens.
---
States where English is the official language 
By Hunter Schwarz

August 12



Five states are considering legislation this year to make English their official language. If passed, they would join the 31 states with existing official language laws.



In some states, an official language is treated similar to how official flowers, birds, or trees are treated: as just a designation without any particular guidelines for what to do about it. In Illinois, for example, its English law states simply, "The official language of the state of Illinois is English."

In Missouri, it's even more vague, more of an observation than a designation: "The general assembly recognizes that English is the most common language used in Missouri and recognizes that fluency in English is necessary for full integration into our common American culture."
Most states go further, with additional guidelines, like Tennessee, which mandates that, "All communications and publications, including ballots, produced by governmental entities in Tennessee shall be conducted in English unless the nature of the course would require otherwise."

Read more and see map here:  washingtonpost

IO opinion:  Thirty-one states have English as an official language and five additional states are considering passing legislation.  The vast majority of Americans support English as the offical language.  Where is Ohio?
---
Tue., 6:12 pm: Youngstown prison on lockdown
By MARGARET THOMPSON  August 12, 2014
YOUNGSTOWN -- A disturbance at a Youngstown prison has put the facility on lockdown, according to a spokeswoman for the facility.
"The Northeast Ohio Correctional Center is currently on lockdown status as a precautionary measure after a group of inmates on the smaller recreation yard refused orders to return to their cells," Quality Assurance Manager Candace Rivera said in a news release.
"All staff and inmates are accounted for and facility management is communicating with the inmates to resolve the matter peacefully. There have been no incidents of violence. The facility is secured and the community is not in danger."
Unconfirmed reports called into Tribune Chronicle news partner WYTV 33 News claim that prisoners threatened to kill a female guard, who afterward was escorted out for her safety. Twenty to 30 prisoners remain in the rec area and the warden is talking with them to try and end the situation, according to the unconfirmed reports.
The privately owned facility on Hubbard Road houses male inmates for the U.S. Marshals Service. According to website of the Corrections Corporation of America, who has owned and maintains the facility since 1997, the prison is low-security and holds 2016 beds.
In June the American Civil Liberties Union of Ohio called for the U.S. Bureau of Prisons to end its contract with CCA to house immigration detainees. This came after the group reported that the for-profit prisons "create dangerous atmospheres with a severe lack of oversight and do little to encourage rehabilitation."

Read more:  tribtoday 

IO opinion:  Per the ACLU 75% of inmates at the Northeast Ohio Correctional Center on Hubbard Rd are federally convicted and sentenced "undocumented immigrants".  Read more:  vindy 

---
Most folks OK with states tackling illegal immigration
Chad Groening  Monday, August 11, 2014

A new survey shows that a majority of Americans support the efforts of states to deal with the problem of illegal immigration because the federal government is unwilling to do so.

 In survey results released last week by Rasmussen Reports, just 13 percent of likely U.S. voters believe the federal government is doing a good or excellent job of dealing with the illegal immigration problem in the United States; in contrast, 59 percent rate the government's performance in this area as poor. In the same survey, 60 percent believe a state should have the right to enforce current immigration laws if it believes the federal government isn't enforcing them; 28 percent disagree with that, while 12 percent are undecided.

Ira Mehlman, a spokesman for the Federation for American Immigration Reform (FAIR), observes that some states "have decided that they've had enough" of the federal government's handling of the issue and have taken matters into their own hands.
 



"Arizona is a prime example," he tells OneNewsNow, "and the result has been a significant diminishment in the number of illegal aliens living in Arizona since 2004 when the voters first voted for Proposition 200." That initiative was approved by 56 percent of voters on November 2, 2004.

In contrast with Arizona, Mehlman finds it unfortunate some states are going in precisely in the opposite position.
"California has basically provided protection for any illegal alien, including criminals in that state, [and has] made all kinds of benefits and services available to them," he notes. "The New York legislature is now entertaining a bill that would make illegal aliens citizens of New York and make them eligible to vote in local elections and even run for office.

"So you've got states that are just going off the reservation on the other side – and somebody needs to rein them in," he suggests.

Mehlman points out the Obama administration only goes after states like Arizona that are trying to curb illegal immigration rather than aid it.

Read More:  onenewsnow

---
Immigrant friendly initiative to bolster workforce, advocates say
Critics worry the region could become 'safe haven' for illegals
By Amanda Seitz  Posted: 7:00 a.m. Sunday, Aug. 10, 2014
CINCINNATI —Members of a newly formed task force charged with drumming up ways to attract immigrants to Cincinnati say they will focus on growing the region's workforce by recruiting a talented immigrant pool.
Amid a growing national controversy over how the country should process children who immigrate here unaccompanied and illegally, Cincinnati Mayor John Cranley announced late last month that he had challenged a group of 80 volunteers to establish policies that will make the city more immigrant friendly.
Despite the timing of the announcement, members of the task force, which includes leaders who do business here in Butler County, say a chunk of their efforts will focus on luring legal immigrants to Ohio's third largest city.

Read More:  journal-news 

IO opinion:  A spokesman with the city mayor's office said officials didn't have time to answer questions about how or if they plan to reach out to outlying communities for input on the city's immigrant friendly initiative. 

If the spokesperson does not have time to answer questions to the outlying communities, certainly the Ohio/American taxpayers of the outlying communities should not have to fund this endeavor.  Illegal immigration is costing Americans hundreds of billions per year.  States and the federal government should stop funding sanctuary cities. 

How many of the immigrants will Cincinnati attract that are legal or illegal?  The below was posted several years ago @ cincinnatilatino


Hispanics in Greater Cincinnati2
Estimated 60,000 Hispanic immigrants
"most...have come here in the last 10 years and many in the last 5 years" 
Estimated 80-90% "of new immigrants are undocumented"
Roughly 40% Mexican, 16% Guatemalan
More than 70% Catholic

2,3 Data and quotes from The Emerging Latino Immigrant Community of Cincinnati, Southwest Ohio, and Northern Kentucky. Dan La Botz, September 2007.
---
More immigrant children fighting deportation in Ohio court
By Amanda Seitz Posted: 12:01 a.m. Sunday, Aug. 10, 2014
More immigrant children have been fighting to stay in the U.S. in recent months at Ohio's only federal immigration court.
Four states separate Ohio from the U.S./Mexican border, but this state has still felt the effects of a recent wave of unaccompanied immigrant children flooding the country this year.
This newspaper found the immigration court in Cleveland has dealt with a record-high number of child immigration cases this year, as more than 57,000 unaccompanied children, most of them hailing from Central America, have traveled to the border from Oct. 1 to July. During that time, 36 new child immigration cases have been entered into Ohio's immigration court — double the amount of cases last year and the highest number since 2009 — according to federal records this newspaper obtained.
The court has also decided on 66 child immigration cases, again, the highest number on record in recent years.
The increase is directly related to the surge of children crossing the border, many of which are smuggled through drug cartels, said Bahjat 'Bill' Abdallah, a Cincinnati and Dayton immigration lawyer.
"There's a rush of them because of some misinformation," Abdallah said. "We're hearing the cartels, they're saying, 'if you're a kid, they'll just give you papers.' They're not ducking the (border) officers, these children are coming to turn themselves in."

Read More:  journal-news

---
From here to there: Few unaccompanied minors staying in Arizona
By Aubree Abril  Cronkite News Service  8/9/2014 2:41:00 PM

A map produced by Stateline, part of the Pew Charitable Trusts shows the 20 states in yellow that have received the highest number of Central American immigrant children. Arizona, with 186 such children, ranked 26th among states. (Map courtesy Stateline)
Read More:  cvbugle
---
 Sheriff announces support for ban on temporary immigrant housing
By Amanda Seitz  Posted: 11:29 a.m. Thursday, Aug. 7, 2014

BUTLER COUNTY — An Ohio proposal that would ban state agencies from housing immigrants suspected of being here illegally has the support of the Butler County sheriff.

Sheriff Richard K. Jones said in a statement Thursday that he supports the legislation, which is sponsored by State Rep. Wes Retherford (R-Hamilton).

The bill would also prohibit local governments or private corporations who provide housing assistance, in partnership with the federal government, to immigrants suspected of living in the U.S. illegally, from receiving any state funding.

"People that run our country need to make some decisions. They need to fix this immigration policy. Both sides seem to hide behind trees. They won't really come out and fix anything," Jones said.

Jones also sent a letter urging Ohio Gov. John Kasich to support Retherford's bill.

"I urge you to take a stand do the right thing and support this bill, along with me," Jones wrote to the Republican governor. "Hold agencies responsible for aiding illegal aliens on all levels and support the citizens that vote for people like you and me who expect us to fight to keep them safe."

Read More:  oxfordpress

---
White house worked with uscis to hold roundtable in Dayton, encouraging more illegal aliens to apply for daca
Asian American and Pacific Islander Enrollment in the Deferred Action for Childhood Arrivals (DACA) Program
Posted by

Tuyet Duong

on August 07, 2014 at 10:16 AM EDT
On June 15, 2012, the Secretary of Homeland Security announced the Deferred Action for Childhood Arrivals (DACA) process, which provides temporary relief from deportation and an opportunity to obtain work authorization to certain eligible undocumented individuals who came to the United States as children. With DACA status, individuals can potentially obtain a social security number, apply for a driver's license, apply for scholarships and access additional opportunities in the workforce.
According to the latest report released by the U.S. Department of Homeland Security, South Korea, the Philippines, and India are included among the top 15 countries of origin for DACA applicants. As of January 2012, there were 310,000 unauthorized immigrants living in the United States from the Philippines, 260,000 from India, 230,000 from Korea, 210,000 from China and 160,000 from Vietnam. Still, the DACA enrollment rates of Asian Americans and Pacific Islanders (AAPIs) are disproportionately low; there are an estimated 108,024 potential DACA beneficiaries from Asia, many who have not applied for the DACA program.  

That's why the White House Initiative on Asian Americans and Pacific Islanders (WHIAAPI) recently worked with USCIS to host a series of roundtables to discuss challenges and best practices in effective DACA outreach to AAPI communities. These roundtables were held in Dayton, Ohio; Chicago, Illinois; and Houston, Texas, and led by members of the President's Advisory Commission on AAPIs: Michael Byun, Kathy Ko Chin, Billy Dec and Linda Phan. Participants included leaders from the faith-based, education, social services, and business communities.

Read more: whitehouse.gov
IO opnion:  Why is the White House spending American tax dollars at roundtables encouraging illegal aliens to sign up for amnesty in the "immigrant friendly" city?

---
HHS No Longer Seeking Housing for Immigrant Children, Turner Releases Statement
 

Wednesday, August 6 2014, 06:15 PM EDT
Congressman Mike Turner is sounding off on Dayton Mayor Nan Whaley's proposal to bring unaccompanied children to Dayton. 

The U.S. Department of Health and Human Services is also saying they are no longer looking for temporary shelters.

Congressman Turner released the following statement Wednesday: 


"In our community, Mayor Whaley's proposal was met with a groundswell of resistance from local elected officials, key members of local law enforcement and concerned citizens who opposed housing an unspecified number of illegal immigrants in the City of Dayton and its surrounding neighborhoods," said Congressman Turner. 


"I was grateful to partner with elected officials and local leaders in Dayton to write to the President and ensure the administration was aware that Mayor Whaley's proposal did not have the support of our region and that the cost of providing for these illegal immigrants would have had a severe negative impact on our ability to continue providing basic services to our community," said Congressman Turner. 


"While I am pleased to hear that HHS is no longer seeking facilities for temporary shelters for unaccompanied children at this time, a great deal of uncertainty remains about the security of our border and the Obama Administration's enforcement of our immigration laws. 


"As new details and developments concerning this crisis emerge, I will continue to monitor the situation closely and work hard to make certain that our Dayton community can provide services to the people in Southwest Ohio," said Congressman Turner.  
So far, Nan Whaley has not responded to the statement. 

Read More:  abc22now

---
ACLU: Local jails holding immigrants for too long
By Amanda Seitz  Posted: 12:39 p.m. Wednesday, Aug. 6, 2014
Local jails are being accused of holding immigrants, who are suspected of being in the U.S. illegally, for longer than they should, according to a letter from the American Civil Liberties Union of Ohio.
The letter, obtained exclusively by this newspaper, was sent to seven sheriffs across the state. In that letter, the ACLU suggests sheriffs should not recognize requests from the U.S. Immigration and Customs Enforcement (ICE) agency to detain immigrants who might be up for deportation. Letters were sent to sheriffs in Butler, Cuyahoga, Clark, Franklin, Montgomery, Mahoning and Warren counties.
"ICE comes in and says, before you let go of that person, hold on for another 48 hours while we get things together on our end," Gary Daniels, the chief lobbyist for ACLU's Ohio chapter, said. "This is a request (from ICE), it isn't a demand. If you have no legal authority to hold a person, you can't hold a person. You have to have at least some judicial order, you have to have a court look at it to hold that person longer."
The ACLU only sent letters to counties who get frequent federal requests to hold immigrants suspected of being here illegally. Hamilton County had 487 requests from ICE but Daniels said the sheriff there is actively working on changing the way the jail processes federal holds on immigrants.

Read More:  daytondailynews
---
 A Governor's Dilemma: Illegal Immigrants Divert Resources From State's Own Citizens
Gov. Mary Fallin   Oklahoma       August 05, 2014

********************************************************************
Oklahomans are not equipped to solve problems in El Salvador, Honduras and Guatemala.

President Obama continues to push amnesty and open borders whenever and wherever he can.
********************************************************************

On June 13, the first bus of illegal immigrant minors, aged 12-17, arrived at Fort Sill, Oklahoma. The state of Oklahoma was given no formal notice, and no chance to object.
After weeks of bad publicity, public outrage and political pressure, the Obama administration announced this week that the facility will close by Friday, Aug. 8.
That's good news for the people of Oklahoma and the men and women of Fort Sill, who will once again have the full use of their military base for the purpose it was designed for: housing and training soldiers.
What the facility's closure does not mean is an end to the ongoing border crisis, or an end to a broken immigration system that encourages men, women and children to break our laws.

The Fort Sill facility may be closed, but there is no guarantee it will not reopen in the future. In fact, the federal government extended their lease into January of next year, preserving the option to once again house illegal immigrants there.
Perhaps even more important is what happens to the children who leave Fort Sill, and the message that we are sending to the rest of the world.

Read More:  Dailysignal

---
 360 Unaccompanied Minors From Border Crisis Are Now in Ohio
By Kurt Weinschenker    Updated: Aug 05, 2014 9:45 AM EDT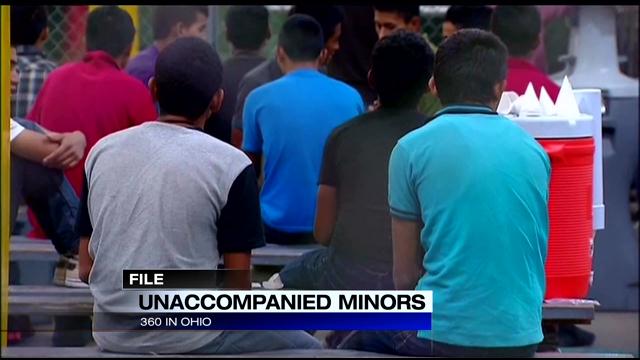 MGN Online
As states along the U.S./Mexican border struggle to keep up with an influx of unaccompanied minors from Central America, some of those children have come to Ohio.
Ohio's Department of Job and Family Services says the state has received 360 unaccompanied minors from the border crisis since January 2014.  Ohio administrators requested the federal Department of Health and Human Services tell them how many for planning purposes.  HHS did not provide Ohio with other information concerning the minors, such as their location within the state.
In a telephone interview, Department Spokesman Benjamin Johnson said that to the best of his knowledge, HHS has not provided that and other additional information on these minors to any of the states involved in processing them.  
He added all of the 360 children placed had either family members, or a sponsor already residing in Ohio. Johnson went on to say the children would remain in Ohio pending the outcome of their immigration legal cases.
Read More: 
wtrf.com

---
 Bill would punish cities that house migrant kids
 State Rep. John Adams: "To me, it's the philosophical issue of illegal."
Jim Siegel  Saturday August 2, 2014 8:05 AM  
As local governments in Ohio, including Franklin County and the city of Dayton, provide possible locations to house a portion of the immigrant children streaming across the country's southern border, some state legislators want to block such action.
Agreeing to house the children would cause a city, county or private corporation to lose all state funding under a bill likely to be introduced next week in the Ohio House.
Dayton gets about $1 million in annual local-government funds from the state, while Franklin County gets about $12 million and Columbus $3.6 million.
"To me, it's the philosophical issue of illegal," said Rep. John Adams, R-Sidney, who will sponsor the bill. "They should be sent back to the country they originated from and go through the process of becoming a legal citizen."
Read More:  dispatch.com

---
 Sorry, Liberals, Plyler Doesn't Mean Free Education For All Illegal Immigrants
4:39 PM 08/01/2014
William Perry Pendley President, Mountain States Legal Foundation
We're all becoming border states now," worried Bristol County, Massachusetts Sheriff Tom Hodgson over tens of thousands of illegal immigrants — most unaccompanied children — swarming into the American Southwest, many making their way to America's first county. Meanwhile, officials in Connecticut and Maryland balked at federal plans to house illegals there, and Nebraska Governor Dave Heineman was livid to learn illegals were secreted into his state.
Hundreds of cities — coast to coast and border to border — fearing their schools, health departments, and local budgets will be overwhelmed, demand that their leaders respond. If they do, their plans will draw fire from the Obama administration, whose Education and Justice Departments informed educators nationwide last May that "Plyler v. Doe, 457 U.S. 202 (1982), [provides] that a State may not deny access to a basic public education to any child residing in the State, whether present in the United States legally or otherwise … . Plyler makes clear, the undocumented or non-citizen status of a student … is irrelevant to that student's entitlement to an elementary and secondary public education."
The use of Plyler by Obama's officials — and over the years by the mainstream media and left-wing groups — as an incantation, proves Will Rogers right: "It isn't what we don't know that gives us trouble; it's what we know that ain't so."
Plyler held only that, because illegal aliens are "persons" under the Equal Protection Clause, if states deny them free primary education, states must have a basis that passes "intermediate scrutiny." Specifically, the Court held that a Texas law did not pass that test. Thus, Plyler: (1) does not apply to secondary and post-secondary education; (2) did not hold that public education is a right; (3) did not confer legal status on illegal alien children; (4) does not prevent an illegal alien from being arrested and deported; and (5) does not prevent a school from inquiring as to the legal status of and reporting illegal aliens. In fact, Plyler does not bar a state from denying primary education to illegal aliens. Plyler holds only that, if a state does so, it needs a better reason than Texas had in 1982.
Not surprisingly, Plyler remains the epitome of "judicial activism." Five justices, acting as if they had been elected to Congress, ruled "illegal alien children" a "special class" and that Texas had not shown that its law "had a substantial relationship to a substantial state interest" when it voted to deny them free education. The justices admitted that free school was not a "right" but said it was a special benefit whose denial violated the Equal Protection Clause. In so ruling, they relied on these "facts": there are only 3 million illegal aliens in the United States; Congress might declare illegal aliens to be citizens; illegal aliens will never leave so citizens should pay to help them improve themselves; citizens are "callous" toward illegal aliens so courts must protect them from "neglect"; and, the cost of paying to educate illegal aliens is not as important as the psychological toll on them of not having free education.
Chief Justice Burger, with Justices Rehnquist, White, and O'Connor, responded with a vigorous dissent: "in an effort to become an omnipotent [] problem solver[,] … the court distorts our constitutional function"; "the importance of a governmental service does not elevate it to the status of a fundamental right"; "assum[ption of] a legislative role [is] one for which the court lacks both the authority and competence"; "[i]llegal aliens have no right whatever to be here, and the state may reasonably, and constitutionally, elect not to provide them with governmental services at the expense of those who are lawfully in the state"; "the Constitution does not provide a cure for every social ill, nor does it vest judges with a mandate to try to remedy every social problem."
Local officials should ignore the spell the left seeks to cast, respond zealously to the likely lawsuits from the Obama administration and the usual suspects, and ask the Supreme Court to reconsider Plyler, given illegal immigration over the last three decades and what is happening now across our southern borders, in detention centers throughout the country, and to communities in all 50 States.

Read More:  Dailycaller
---